Advances in CMOS millimetre wave circuit design were driven by a shortage of frequencies and a desire to challenge the limits of the possible. Results from ELLIIT research in Lund and Linköping have made vital contributions to Ericsson's new base stations for 5G.
As early as 2003, the research group in Lund started its first project as part of a long-term plan to build beamforming transmitters and receivers using CMOS technology for millimetre waves. Attempts were under way in Linköping to develop circuits using CMOS technology that could convert digital to analogue signals, and vice versa, at the significantly higher bandwidths that were involved.
"The research community was distinctly sceptical whether this was possible, since the transistors available at the time were too large and thus too slow", remembers Henrik Sjöland, professor in integrated electronic systems, at the Department of Electrical and Information Technology, Lund University, who also works
at Ericsson in Lund.
The ambition at this early stage to use higher frequencies came from, among other things, experiences with 3G frequency congestion with such equipment as TV transmitters, GPS, microwave ovens and Wi-Fi. Millimetre waves have frequencies between 24 GHz and 300 GHz, a very large frequency range that offers both high speed and plenty of bandwidth for future mobile phones, the internet of things, and streamed media.
It took about ten years of research before the group could present an award-winning architecture for beamforming, where they could also demonstrate high-performance circuits in CMOS technology. Since higher frequencies means more attenuation and thereby shorter communication range, the beams from many small antennas must be combined and directed more precisely towards the target. Thus, an important part of the architecture are circuits designed in-house that make possible accurate individual phase control of the antenna signals.
"We built up imposing knowledge in the design of CMOS circuits for millimetre waves", says Henrik Sjöland.
While the group in Lund worked with millimetre wave transmitters and receivers, researchers in Linköping investigated analogue to digital converters, and vice versa, for high bandwidths. Under the leadership of Professor Atila Alvandpour, the group presented novel architectures in the field, and demonstrated high-performance circuits in CMOS technology.
"By this time, it had become obvious that the rapid wireless transfer of the future would depend on several things: the development of CMOS technology, and the combination of millimetre wave transmitters and receivers with high-bandwidth converters. The collaboration between our research groups became more intense within ELLIIT", says Henrik Sjöland.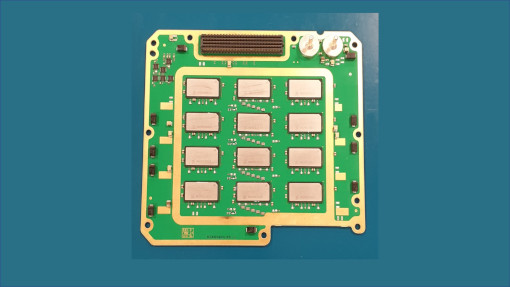 These technologies have been decisive in the development of chips for Ericsson's 5G base stations, a development led from Lund. Many doctoral students who have presented their theses in Lund or Linköping are now working at Ericsson on the development of chips and systems for 5G, and Ericsson currently has two industry-based doctoral students in Henrik Sjöland's group.
"I cannot underline enough the significance of Ericsson's advantage in 5G radio technology. A central part in the development of base stations for 5G is the recent design of circuits in CMOS technology, as pursued by the ELLIIT research initiative. The transfer of technology and expertise within this field is a key to success, now and in the future", says Henrik Sjöland.
A new joint ELLIIT project started in 2021 with the objective to build circuits for 100 GHz or more, to be used in 6G systems and radar.
"For CMOS technology, it may be that the limit will soon be reached for the speed of circuits we can design, but we will try to squeeze the last little bit of performance out", says Henrik Sjöland.
Henrik Sjöland, professor, active at Ericsson and the Department for Electrical and Information Technology, Lund University.
Two industry-based doctoral students from Ericsson.
Associate Professor Markus Törmänen also works at Lund University on circuit design for millimetre waves, as well as a postdoc and two doctoral students.
Atila Alvandpour, professor, together with two senior researchers and two doctoral students, works on high-speed data converters at Electronic Circuits and Systems, Department of Electrical Engineering, Linköping University.