The possibility of visualising huge amounts data is critical for increasing knowledge in fields such as climate science, materials science and medicine. Visualisation research has also given rise to several spin-off companies, and interactive and educational experiences for millions of children and young people.
Visualisation research financed within ELLIIT started in earnest in 2012, when the development of Inviwo, a platform for interactive visualisation, took off at Linköping University.
"Inviwo is essentially a research platform in which we can design and evaluate visualisation methods. It's a powerful platform, and the visualisations are efficient and interactive, which means that our results are also used in several commercial products", says Ingrid Hotz, ELLIIT professor in scientific visualisation in the Division for Media and Information Technology (MIT) at Linköping University.
To simplify somewhat, the system consists of three layers. The lowest layer consists of building blocks used for all visualisation applications as well as communication with the underlaying hardware – you could say that this is the basic ingredients of the recipe. The intermediate layer makes it possible to experiment with new algorithms and code, while the highest level provides a user interface that makes it easy to combine different algorithms and functions in different ways, simply by drag and drop. Using the highest level doesn't require any programming skills. The source code of the algorithms and the platform itself is open source and free to use even for commercial purposes.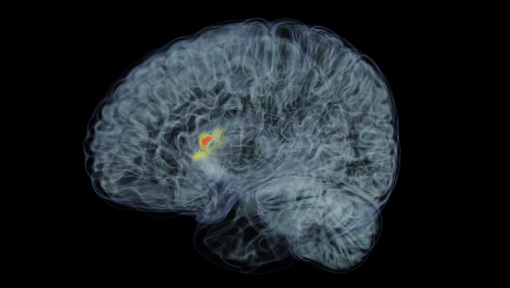 "The platform has been developed so that we can quickly evaluate new algorithms and experiment with them. An efficient interface means that we can rapidly access and change things also in the lower layer", says Daniel Jönsson, associate senior lecturer at MIT.
The results of the research are also rapidly available to other researchers and companies. The high quality of the visualisations and the rapid rendering have been important competitive advantages when companies working in medical visualisation, such as ContextVision and Sectra, chose the algorithms developed in the ELLIIT project for their products. Sectra, which has its origins at Linköping University, has a close collaboration with the research group working on, for example, the virtual autopsy table. The virtual autopsy table is also a result of research at LiU. It has been successfully commercialised by Sectra and is today used in medical studies and other applications all over the world.
Research within visualisation has seen rapid development. The initial work within the field was concerned with, for example, finding efficient algorithms to render volume-based data, while current research is targeted more towards visualising complex correlations within various domains that are critical for society. Examples of domains include, for example, medical visualisation, materials science and flows, biological visualisation of proteins and viruses, and visualisation within space technology and astronomy. Inviwo is now used by researchers not just at Linköping University, but also at the Royal Institute of Technology in Stockholm, Ulm University in Germany, and the University
of Bergen in Norway.
Vistinct, a spin-off company whose founders include Daniel Jönsson, has enabled Inviwo to reach even further. The platform is now also used to develop educational and exciting scientific installations at the National Museum of Science and Technology in Stockholm, and Visualization Center C in Norrköping.
"The research within ELLIIT has enabled millions of children, young people and adults to be inspired. They have been able to interact with science and technology and learn more about them. Thus, the impact of Inviwo has been hugely significant far outside the academic world", says Anders Ynnerman, professor of scientific visualisation at Linköping University and director of Visualization Center C.
Professor Ingrid Hotz, Associate Senior Lecturer Daniel Jönsson, Principal Research Engineer Peter Steneteg, and Professor Anders Ynnerman. All of these are active at the Division for Media and Information Technology, Department of Science and Technology at Linköping University, Campus Norrköping.
The number of people involved in Inviwo at LiU is currently approximately 3-4 doctoral students and 5 senior researchers, including postdocs.